Dog Walking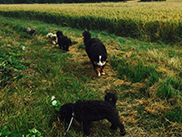 I don't think that I know anyone whose life isn't busy and hectic and we don't always have the free time to give our dogs the exercise that they need and love, well I'm here to help you out!

To provide ultimate flexibility for you and your dog, I walk several times a day and if you have any specific requirements then these can always be discussed. I like to walk the dogs off of the lead to provide them plenty of freedom to run and play unless otherwise requested.

All dogs will be kept on leads anywhere near a road or any potential danger. The dogs always have my full attention and are my number one priority, I always carry my phone incase of emergencies!

I will be walking come rain or shine and I will ensure that your dog in wet weather is returned clean, towel dried and of course happy!
Dog Walking Contract and Veterinary Release Form