Horsham's Crazy Dog Lady
Welcome to Horsham's Crazy Dog Lady!

We are a nation of dog lovers and there is nothing quite like having a dog as part of your family. Unfortunately in this day and age, life is busy and we don't always have as much time as we would like to devote to our beloved dog!

Thats where I come in! (Well me and my dog Bertie).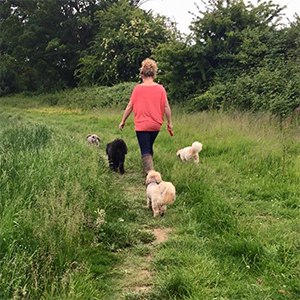 I can come and pick your dog up and take it for a nice long walk whilst you are out at work or perhaps you are looking for somewhere for your dog to go for the whole day where they're going to have lots of company and exercise, it will be like home from home!

I hold comprehensive insurance, have been criminal record checked and I also come with recommendation from Farthings Veterinary Surgery.

If you are interested in any of the services that I have to offer then please feel free to get in touch and I look forward to meeting you and your dog!